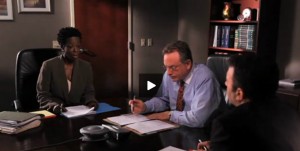 Were you aware most business owners are personally liable for their company's retirement plans? Sit and watch this three minute eye-opening conference call conversation. (Click link below)
https://amandaportal.com/advisor/view/1042/b83b6c3134fb
Plan sponsors: "We didn't make the fiduciary threat up,

it's real

"
– by Ary Rosenbaum, JD
"During fiscal year 2012 (October 1, 2011 – September 30, 2012) EBSA closed 3,566 civil investigations. Of these, 2,570 (72.1 percent) resulted in monetary recoveries totaling $1.27 billion. These recoveries included $911 million in prohibited transaction corrections; $188 million in plan assets restored to plans, and $12.2 million in voluntary fiduciary correction program filings. The Solicitor of Labor filed 100 civil lawsuits (out of 218 referred)."
With 72.1% of these audits resulting in a recovery (2,570 audits out of 3,566), that means the average recovery per audit was something north of $494,000.
http://therosenbaumlawfirm.com/blog/?p=1469&goback=%2Egde_1848196_member_256837506
In what could be a watershed decision, the 7th Circuit U.S. Court of Appeals reversed a lower court decision denying plaintiffs in the Abbott v. Lockheed Martin case class action status. The plaintiffs, who were represented by Jerome Schlichter, were able to win class action status by splitting the classes into those that invested in the same funds, overcoming the 7th Circuit's Spano decision. At issue was their contention that offering only a short-term stable value fund which failed to beat its benchmark, barely edging out the inflation rate, "amounted to imprudent management and violated Lockheed's duty to manage the Plan 'with care, skill, prudence, and diligence under the circumstances,'" the court noted in remanding the case back to the lower court for further proceedings.
The decision, according to FRA PlanTool's Thomas Clark, is "wind in the sails of potential class action suits over underperforming funds." Not only are there similar cases awaiting in the 7th Circuit, but cases in other circuits might move forward as well. Just as with the Tussey and Tibble cases, the Abbott decision promises to change the ERISA litigation landscape for fiduciaries who need to better understand their duties to prudently select funds, especially when it comes to capital preservation funds like stable value that, along with TDFs, are expected to become more popular with DC participants and plans.
(a) Any person who is a fiduciary with respect to a plan who breaches any of the responsibilities, obligations, or duties imposed upon fiduciaries by this subchapter shall be personally liable to make good to such plan any losses to the plan resulting from each such breach, and to restore to such plan any profits of such fiduciary which have been made through use of assets of the plan by the fiduciary, and shall be subject to such other equitable or remedial relief as the court may deem appropriate, including removal of such fiduciary. A fiduciary may also be removed for a violation of section 1111 of this title.
http://www.law.cornell.edu/uscode/text/29/1109
http://uscode.house.gov/uscode-cgi/fastweb.exe?getdoc+uscview+t29t32+511+0++%28personally%20liable%29%20%20AND%20%28%2829%29%20ADJ%20USC%29%3ACITE%20AND%20%28USC%20w%2F10%20%281109%29%29%3ACITE%20%20%20%20%20%20%20%20%20
Why bad funds stay in your 401(k)
Most employers do not realize that they are accountable for the funds in their 401(k) plan. These same employers, mistakenly believe the person selling them the plan are accountable for the funds in the plan. To find an adviser willing to accept responsibility for fund choices, you must have them agree, in writing to serve as the ERISA 3(38) investment manager.
http://www.401kfiduciarynews.com/why-bad-funds-stay-in-your-401k
5 Fiduciary Facts the DOL Wants
Every 401k Plan Sponsor to Know
http://fiduciarynews.com/2013/04/5-fiduciary-facts-the-dol-wants-every-401k-plan-sponsor-to-know/
US Department of Labor obtains judgment to distribute $1.35 million to participants of Minneapolis-based Northland Inn's 401k plan, (DOL Release Number: 11-1511-CHI, October 19, 2011)
US Labor Department sues Wisconsin-based B & K Builders, co-owners to recover more than $114,000 for company's employee benefit plans, (DOL Release Number: 11-383-CHI, October 17, 2011)
US Department of Labor sues architectural design company to restore more than $135,000 in assets to company's 401k plan, (DOL Release Number: 11-684-ATL (235), May 23, 2011)
US Labor Department sues trustee of defunct Mentor, Ohio, company to recover $97,000 in profit sharing plan assets, (DOL Release Number: 11-562-CHI, May 11, 2011)
US Labor Department obtains judgment requiring repayment of $1.25 million to defunct Florida home health care company's 401k plan, (DOL Release Number: 11-0245-ATL, March 10, 2011)
US Labor Department sues Wisconsin-based Coin Builders LLC and president to recover more than $1.3 million for company's profit-sharing plan, (DOL Release Number: 11-0279-CHI, March 9, 2011)
"

A checklist of 401(k) fiduciary responsibilities" By Chris Carosa http://www.benefitspro.com/2013/04/04/a-checklist-of-401k-fiduciary-responsibilities