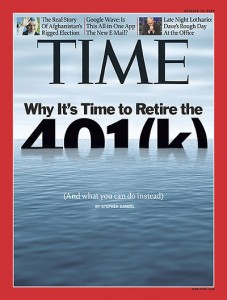 Why It's Time to Retire the 401(k)
Here's why: Remember, the biggest factor in whether the 401(k) works as designed has to do with when you retire. If the market rises that year, you're fine. If you retired last year, you're toast. And the chances of your becoming a victim of this huge flaw in the 401(k) plan are pretty high. The market fell in four of the nine years since the beginning of the decade. That means anyone retiring this decade had a nearly 50% chance of leaving work in a down market. In fact, your chances of retiring into a down market are even greater than that: forced retirements spike in recessions just as the stock market is tanking.
 http://www.time.com/time/magazine/article/0,9171,1929233,00.html
Personal Tax-Free Retirement Plan 
An IRS approved Personal Tax Free Retirement Plan under Internal Revenue Code 7702 is an alternative to a 401(k), IRA, 403(b) or other tax qualified plans and the Roth IRA.
1. NO STOCK MARKET RISK
Your retirement savings participates in the market gains, without any down-side risk.
2. PRINCIPAL and MARKET GAINS
Cannot go down when the stock market drops.
3. TAX FREE INCOME
Increase retirement income by 25% to 40%
4. NO LIMIT ON CONTRIBUTIONS
5. NO EARLY WITHDRAWAL PENALTIES
No pre-59 1/2 penalties
6. APPROVED BY CONGRESS
7. "PERFECT" MARKET TIMING TOOL.